Estimated Arrival: Between Oct 06 and Oct 13. *ETA to the USA Only
Shipping & Returns: Free Shipping! *Some exclusions apply.

A great massage is backed with incredible technology and the Yutaka delivers.
The Kyota Yutaka M898 4D massage chair looks as exquisite as it feels due to its many superior quality features and easy-to-use controls, that deliver a customizable massage experience tailored to your wellness needs.
The Yutaka M898 4D uses the best materials and technology with state-of-the-art design to deliver silky smooth therapeutic massages with maximum total body coverage from your neck, shoulders, arms, palms, down your back, to your calves and feet.
The 4D Back and Glutes Mechanism allows the user to adjust the width, length and intensity for a more personalized massage. The Yutaka has Lumbar Heat, Chromotherapy light programs, Intersound™ Technology that features nature sounds thru the Premium Bluetooth Speakers (or play your own favorites) and an Integrated Air Ionizer to help melt away stress. Complete Calf™ Kneading & Oscillating massage combined with the Triple Roller Total Sole Reflexology rollers give much needed relief from being on your feet all day. Need to charge your phone? The Yutaka includes a wireless charging pad! For even more convenience, use the Joystick Quick Access Control to choose from 12 Auto Programs instead of the remote. And if you are worried about space, relax, this chair is equipped with Zero Wall Fit™ Space-Saving Technology and requires just 2" of wall clearance.
Choose the color best for your decor at your home or business, and enjoy this daily wellness boost!
FEATURES: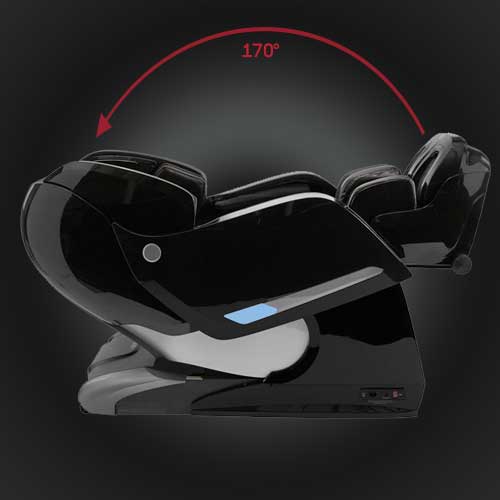 Weightless Zero Gravity Recline
Zero Gravity elevates your feet up over your heart to improve overall circulation and reduce gravitational force on your heart and spine for a sense of weightlessness.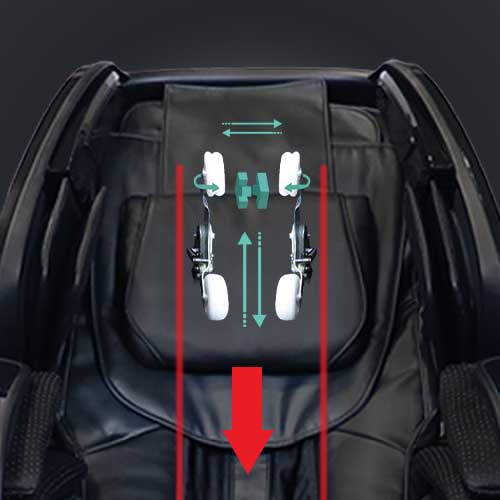 Advanced 4D Back Massage Mechanism
Advanced massage technology combines in & out motions at varying speeds, with sweeping left-right and up-down motions, to create 4D human hand-like deep-tissue massage that is smooth and fluid.
Additional Airbag Compression Therapy throughout the chair inflates and deflates to provide human-touch sensation.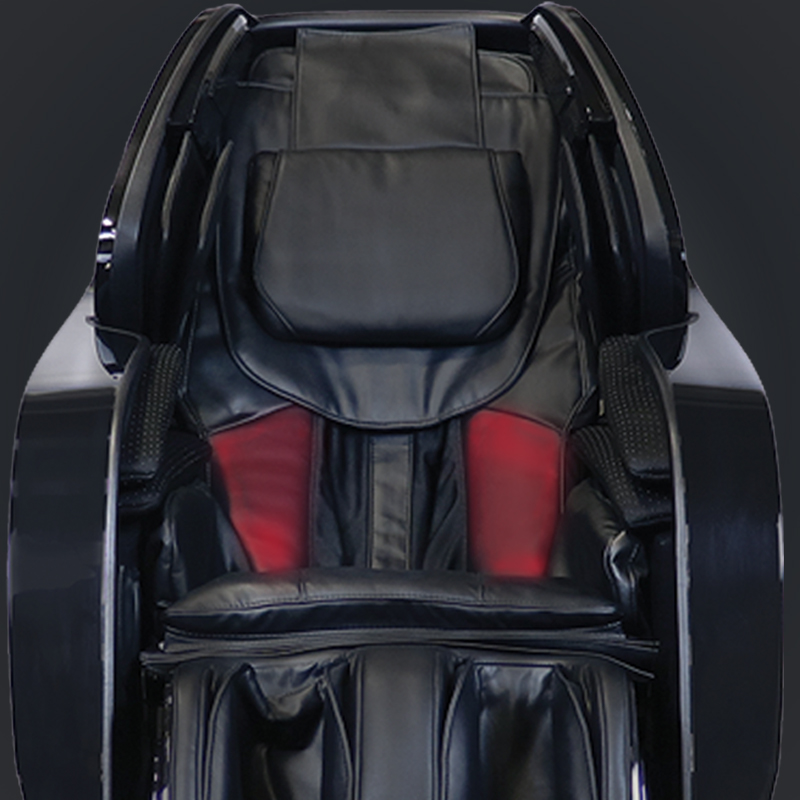 49" L-Track Design
The L-Track follows the curve of the spine, moving up and down the neck to the lower back, and extending further down the body to your gluteus muscles, ensuring that you receive an encompassing spa-quality massage.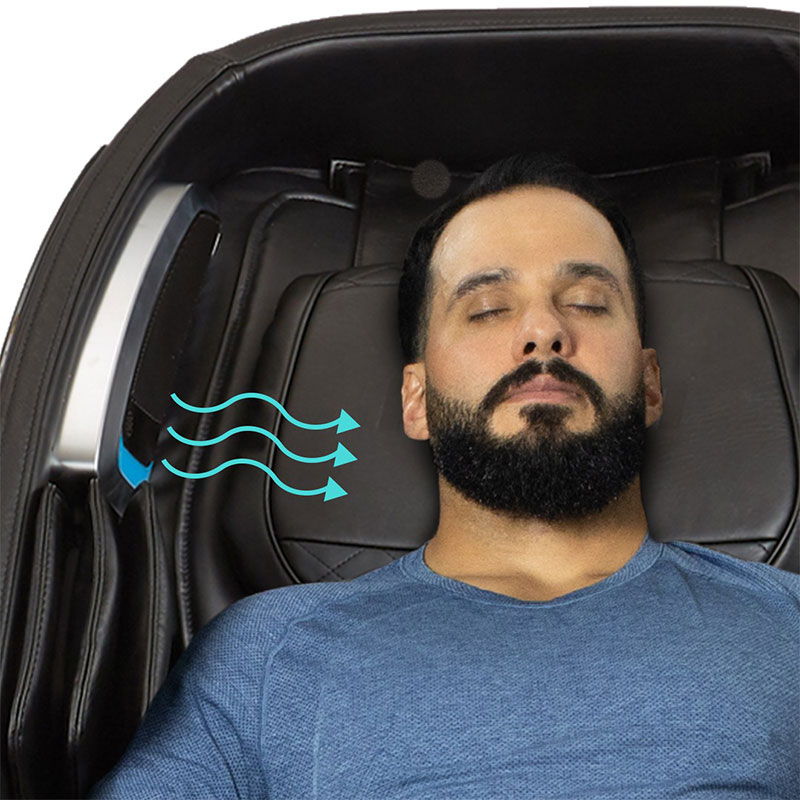 Integrated Air Ionizer
The chair contains a small vent near the headrest to facilitate healthy oxygen intake by emitting negatively charged ions to reduce intake of pollutants.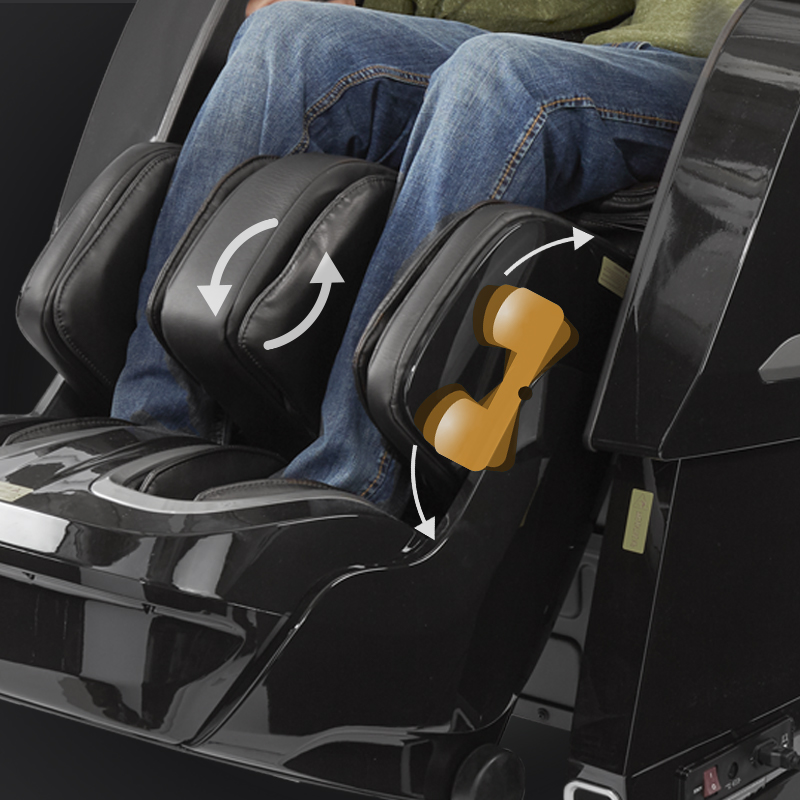 Complete Calf™ Kneading + Oscillation
The ultimate in lower leg relief. Rollers combine with oscillating movement and compression air cells to simulate hands gently relieving tension and pain.
TrueFit™ Footrest Extension
The footrest mechanically extends, then retracts, in order to create a custom length set to the user's legs.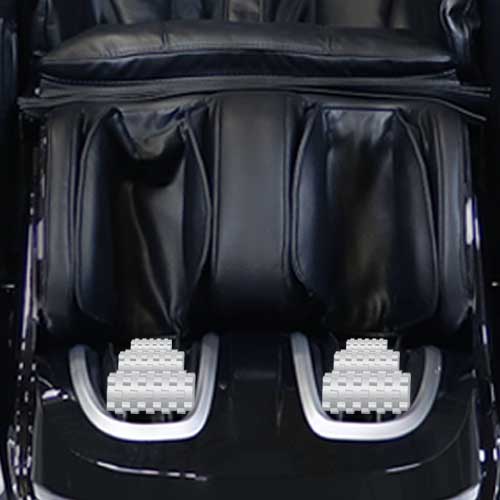 Enclosed Triple Roller Total Sole Reflexology
Full triple rollers per foot create the most Reflexology coverage available in any massage chair sending therapeutic relief throughout your body while enclosed compression massages out all tension.
Automatic Footrest Extension accommodates user's specific leg dimensions and comfort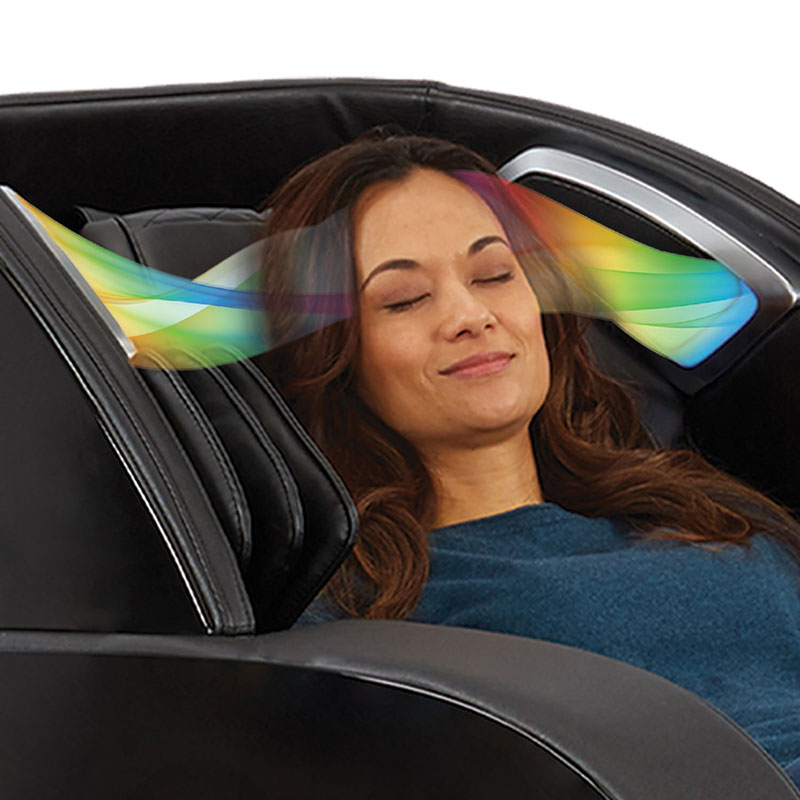 Chromotherapy Mood Lights uses a spectrum of colors and music to balance one physical, emotional, spiritual, and mental energy.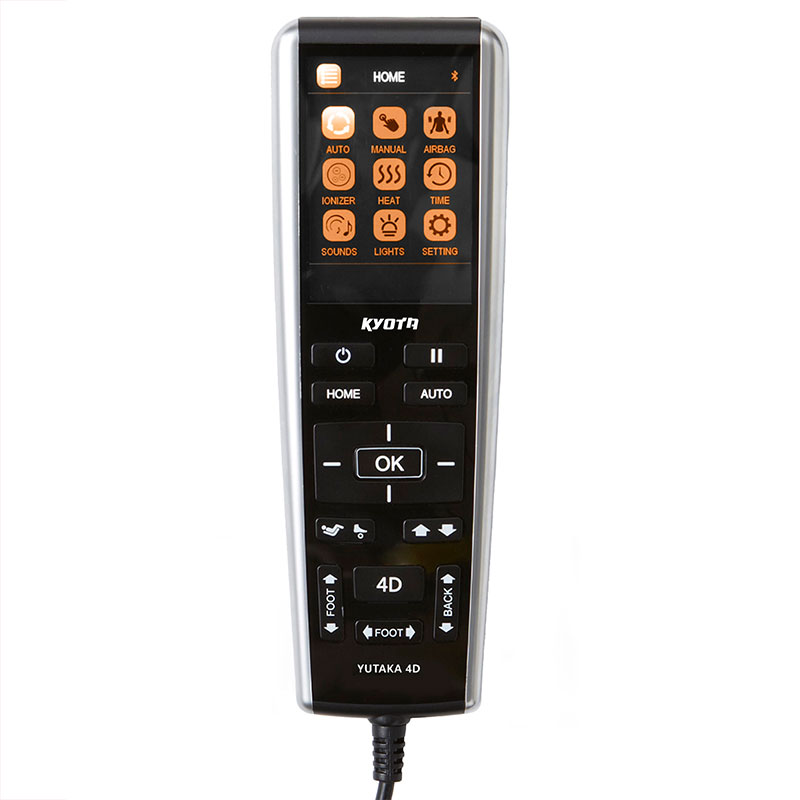 Premium Leather-backed Intuitive Remote Control
Easy to use, color, menu-driven remote. Select from 12 auto programs or use our customizable manual massage programs. Stores away in the side pouch for easy access.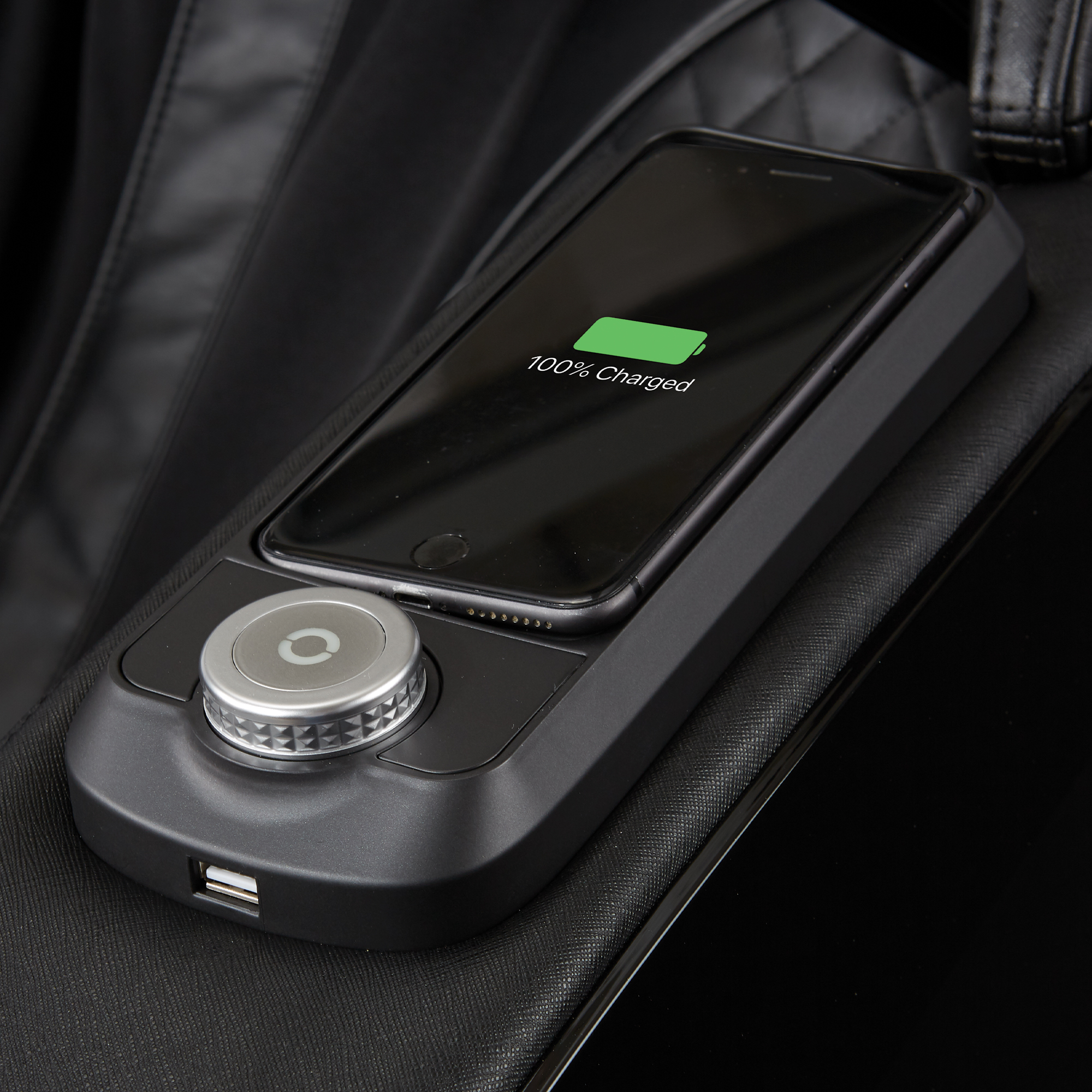 Wireless Charging Pad + Joystick Control
On-board wireless contact charging pad embedded into the armrest means your phone is recharged when you are. In addition, the convenient easy-access joystick reclines the chair and selects auto programs without needing the remote.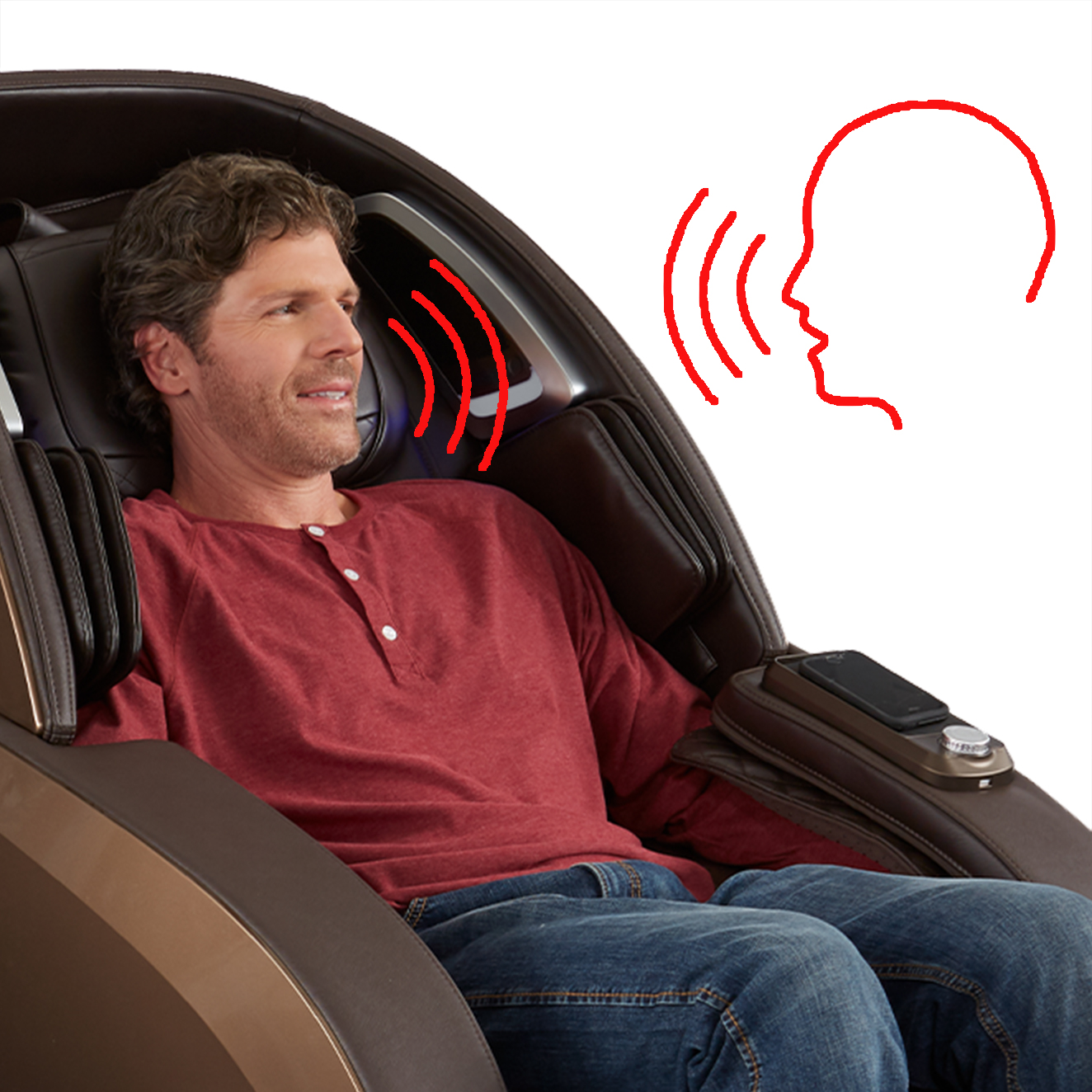 Intelligent Voice Command + Control
This hands-free feature works with an intelligent voice control system that allows you to activate massage programs simply by asking.
Specs
Max Weight: 304 lbs.
Upright (LxWxH) 67" X 35" X 49"
Reclined (LxWxH) 73" X 35" X 37"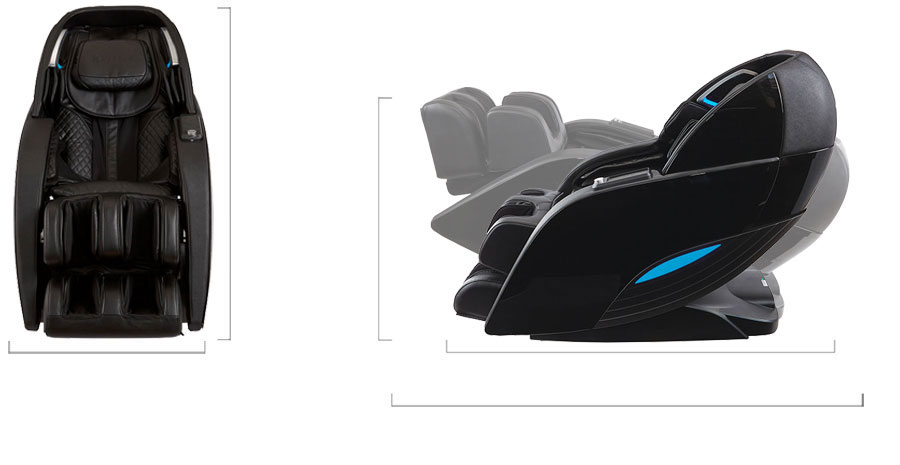 ---